Located right at the heart of Haro, Arrope Hotel & restaurant is the perfect centre of operations for sightseeing and visiting wineries in the region of Rioja Alta. The restaurant, which is recommended in the 2019 edition of the Michelin Guide, offers solid, traditionally based cuisine with a few nods to 'foreign' cuisines.
It was the height of the crisis when Miguel and Ana took the plunge to refurbish this historic building in the centre of Haro and set up their own business. Born in Durango (Bizkaia), Miguel has a natural attachment to La Rioja, having spent almost every summer in Haro as a child and young man. Although he went to work in advertising and event organising, he gained sound experience of the hotel industry both in the Basque Country and in Mexico.
The building is a palace with white enclosed balconies constructed in the romantic style in the mid 19th century, at the start of the wine boom in Rioja. Commissioned by the founder of Bodegas Gómez Cruzado, one of the historic wineries in Haro's Station District, it has 21 bedrooms (four of Whilst Ana looks after accommodation, Miguel heads up the kitchen, although he is increasingly looking after front of house and wines and is in fact studying a level 3 course with the WSET, the world's leading wine education provider.
Arrope
Arrope is wine must boiled down to a concéntrate and is used to make sweet wines. It is referred to locally as the "Riojan snack" because it was a typical post-war dessert served with stale bread.
When it came to naming their hotel, the choice was made easier because Miguel and Ana liked the fact that "arrope" begins with an "a", a significant advantage with regard to search engines. To them the word also sounded rather like "arropar" (to wrap up, or cosset), which at the end of the day is how they want their guests to feel.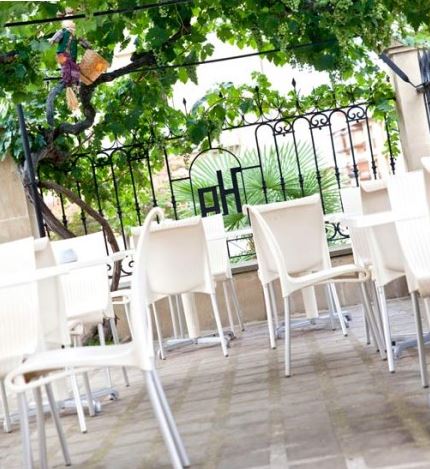 Best of all is thatthey make their own arrope that they then use in dishes such as suckling pig and micuit of foie gras. "This year", says Miguel, "we made it from Viura must. It's amazing how it reduces to nothing. Of the 1,000 original litres of must, we were left with just 120 of arrope".
To eat, drink and enjoy
Miguel defines his cooking as Mediterranean, with Basque roots and a few foreign touches, although they often make many of the typical local dishes as well (off the menu) such as potatoes with chorizo. What they like, however, is to reinterpret traditional cuisine. For instance, they have created a version of bacalao a la riojana (Rioja style cod) as a crispy mille-feuille confection and make confit of pig's snout cooked at a low temperature that they later pan-fry and serve with Salsa Vizcaína. And how about a Riojan guacamole that uses a local type of pepper in the seasoning?
This is why Arrope is a favourite restaurant for visitors to Haro. They tell us that oe of the dishes on the menu that has been most popular lately is the unusual revuelto de perretxicos (scrambled eggs with perretxico mushrooms), for which they cook the eggs at 62ºC. The result is almost like a soup completely impregnated with the flavour of the wild mushrooms.
Seasonal produce off the menu is another mainstay of Arrope's philosophy. Anyone visiting at the moment will still be able to enjoy fresh asparagus and baby beans, whilst borage and fish such as bonito and chicharritos (tiny horse mackerel) prepared in escabeche are also being added to the menu.
La bodega
La carta de vinos incorpora unas 400 referencias. Rioja manda al cien por cien en los tintos, mientras que en el capítulo de blancos los locales conviven con propuestas de Galicia, Penedès, txakolis, algunos rieslings y vinos del Loira.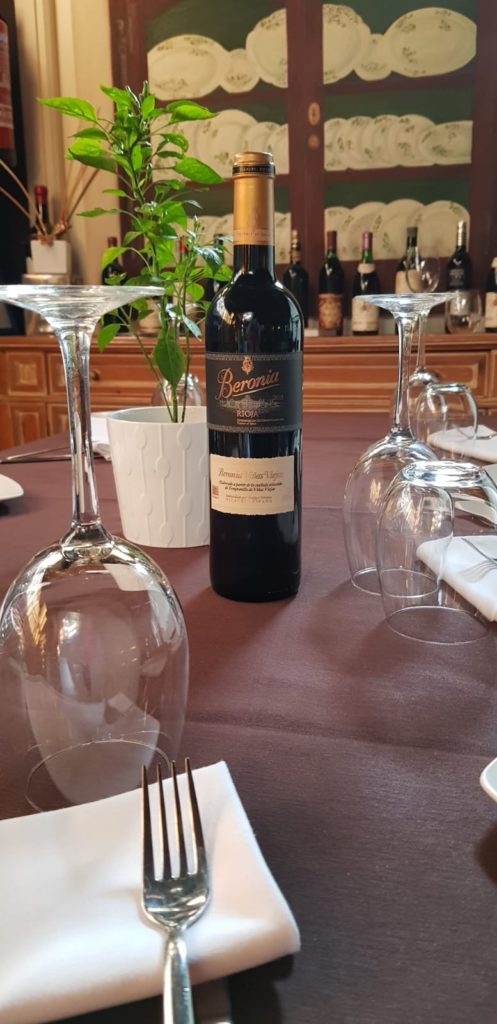 Nuestro Beronia Crianza está disponible por copas en la barra, pero en carta encontraréis casi toda la familia al completo: el Viñas Viejas, el Crianza Edición Limitada, que es uno de los favoritos de Miguel, el Reserva, el Gran Reserva y el top III A.C. Teniendo en cuenta que la bodega está a apenas 10 minutos en coche, es buena idea aprovechar para visitarla antes de comer.
El restaurante permanece abierto todos los días (ventajas de formar parte de un hotel que ha de dar servicio a sus huéspedes) y ofrece un menú de mediodía de 15 € y otro ejecutivo de 18 €.